Cunningham Pictures (page 3)

Alvie Cuunningham World War I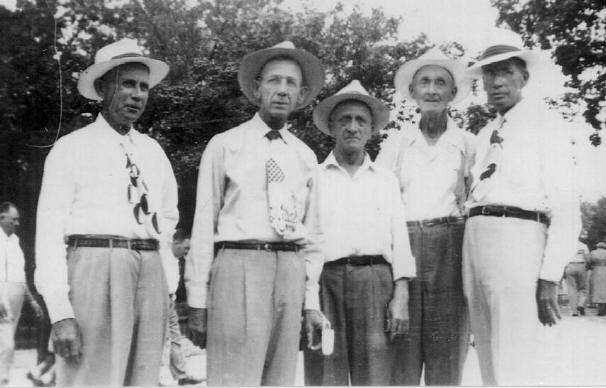 From back of picture:
Cartmell Reunion
Taken Sunday before Labor Day 1955
Tom, Millard, Alvie, Uncle Will and Ray
Part of the family tree showing who is in this picture:
1 Thomas Allen CUNNINGHAM, b. 1840
+ Lorena CLARK, b. 1844, d. 1903
2 Joseph CUNNINGHAM, b. 1863, d. 1909
+ Mary Pietta BRICKEY, b. 1865, d. 1942
3 Thomas John CUNNINGHAM, b. 1888, d. 1965
3 Alvie CUNNINGHAM, b. 1890, d. 1966
3 Ray CUNNINGHAM, b. 1897, d. ?
3 Millard CUNNINGHAM, b. 1900, d. 1983
2 William Albert CUNNINGHAM, b. 1876, d. ?
For the rest of the family tree, go to the Cunningham Family page.
If you would like to print any pictures or images, I can email you a better, bigger copy of the file. It will print a lot better with the bigger file, but I don't have room on this website for all of the big files. If you want to print a copy for yourself, just email me (Lea Ann).
---
Home | Cunningham Family | Brickey Family | Weems Family | Gold Family