McClain
Thomas Nelson McClain was born in Tennessee about 1807 and bought land in Mississippi in 1839-1845. He also had a wife and 2 children there. He moved to Benton County, Arkansas by 1848. He then moved to Newton County, Missouri by 1859.
Pictures
Circa 1911, Alice McClain pictured here with husband and children.
Descendent Chart
1 John McClain
+ Ellen Nelson (b.Abt 1776;d.Aft 1850)
2 Isabella McClain (b.Abt 1800-TN;d.Abt 1851-AR)
+ Robert Harston (b.Abt 1808-NC;m.1832)
2 Thomas Nelson McClain (b.Abt 1807-TN;d.btw 1860 and 1864)
+ Eliza Young (b.btw 1822 and 1828-TN;m.Bef 1850;d.Aft 1870) (See her father's page Alexander Young)
3 Robert McClain (b.Abt 1843-MS)
3 Alec Thomas A. McClain (b.21 Jan 1849-Benton Co,AR;d.21 Feb 1920-Joplin,Jasper Co.,MO)
+ Susan (b.Abt 1851-Indiana;d.Aft 1887-OK,Indian Territory)
4 Lou Ella? McClain (b.1870-MO)
4 Frank McClain
+ Annie
4 Ethel McClain
4 Hattie McClain
3 Arasmus? McClain (b.Abt Jun 1850-Benton Co,AR;d.Aft 1860)
3 Lewis McClain (b.Abt 1852-AR;d.Aft 1870)
3 Adaline Elizabeth? McClain (b.Abt 1854-AR)
3 Oliver Asury McClain (b. 1 Oct 1855; d. 22 Nov 1856)
3 Alice Ruth McClain (b.13 Jun 1859-MO;d.1 Apr 1928-Neosho,MO)
+ William Etheldred Gold (b.1852-TN;m.3 Sep 1878;d.1921-MO)
(more information about Alice and William Gold's children are on the Gold Family page)
4 David Nelson Gold (b.7 Feb 1880-MO;d.25 Oct 1965)
+ Pearl Osborn (b.4 Mar 1880;d.12 May 1974)
4 Sacca Gold (b.9 Oct 1882-Stark City,Wanda,MO;d.23 Apr 1969-Stella,MO)
+ Phidellah V. Weems (b.18 Jul 1879-Newton Co,MO;m.1902;d.13 Feb 1911-Newton Co, MO)
4 Ethel R. Gold (b.Sep 1884-MO;d.btw 1920 and 1930)
+ Lee Robertson (b.Abt 1880-MO;d.Aft 1930)
4 Livvia A. (Adaline?) Gold (b.Jun 1888-MO)
+ Earl (Alvin?) Shepherd (b.Abt 1883-MO;m.Abt 1906)
4 Ernest Gold (b.9 Oct 1889-MO;d.Jul 1965)
+ Elsie H. Hally (b.25 Feb 1893-MO;m.Abt 1915;d.Feb 1976)
4 Lewis M. McClain? Gold (b.14 Dec 1896-Missouri;d.Feb 1972)
+ Betty Boyd (m.Aft 1920)
4 Noah Gold (b.16 Jan 1899-Missouri;d.Jan 1967)
+ Grace E Garner (b.1899-MO;m.Abt 1919;d.1992)
4 Poca Gold (b.10 Apr 1901-Missouri;d.Feb 1978)
+ Tom Johnson (b.Abt 1896;m.Abt 1918)
+ Platner
4 Mona Beatrice Dot Gold (b.27 Jan 1905-Missouri;d.19 Jan 1994)
+ Roy Miller (m.Aft 1920)
3 Mary Catherine McClain (b.28 May 1861-MO;d.9 Aug 1890)
+ Clinton C. Culp (b.24 Jul 1855-NC;m.18 Dec 1879;d.22 Sep 1920)
4 Gertrude Culp
2 Jane McClain (b.Abt 1809-TN;d.Aft 1850)
2 Amanda McClain (b.1814-TN;d.Aft 1880)
+ Jonathan Duff (b.1800;m.1837;d.1850)
+ Stephen Alvin Ellis (b.1800-Surry Co.,NC;m.19 Nov 1871;d.1895-Newton Co, MO) (grandfather of William Gold, Alice McClain's husband above)
Family stories and information:
The family story is that Alice's father (Thomas McClain) was engaged to one women but then actually married her sister. I think that Eliza Young and Adaline Young were the sisters. Maybe Thomas was engaged to Adaline but married Eliza. (See the census on Thomas McClain's page.) Notice that Eliza remarried and Adaline married 7 days apart during the Civil War.
Sacca Gold told the story about her mother Alice as a child during the civil war. Alice remembered being carried to safety by her Black Nanny during a Civil War battle near their house. Her nanny had to carry her through an orchard to the safety of Alice's father's tavern. While running through the orchard, tree branches were being blown off by artillery shells going through them.
Another family story was that Alice's father was being chased by bushwackers during the Civil War. He had to bury his money and escape to Arkansas. He was caught and murdered. His murderers brought his gold toothpick that he always carried back to his home in Newton County, MO and threw it on his wife's lap as proof that they had murdered him. Eliza's sister went to Arkansas to bring his body back for burial. It was thought that maybe Thomas McClain's business partner had him murdered.
On the McClain message board at Genforum.Genealogy.com, Laurel G., a descendent of Amanda McClain, Thomas's sister writes, "Amanda moved with her children to Newtonia, Missouri to live with her brother Tom around the end of the Civil War. He was shot & killed by his best friend Bob Christian."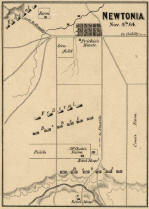 Click the image to see it bigger.
This map shows McClain's farm during a battle in Newtonia, Newton Co., Missouri in 1864. This map is from the American Memory Project at http://memory.loc.gov/ammem/amhome.html
Cemetery Records:
William and Alice Gold are buried at Wanda Cemetery and I have pictures of their tombstones.
Vestal Weems (1905-1982) requested to be buried at the Wanda Cemetery because Aunt Rose Meredith was buried there, so she wouldn't be by herself.
from Pat who has the Wanda Cemetery records:
In lot 161: Vestal Weems, Rose Meredith (no stone), A.C. McClain (no stone) and ??Slokum (no dates-no stone)
The great-granddaughter of Alec McClain, Alice's brother, has emailed with me. He is buried at Wanda cemetery also.
Oliver Asury McClain's tombstone, on Thomas N. McClain's property from that time, born Oct 1, 1855, died Nov 22, 1856
Death records: I have a copy of Alice McClain's death record, which lists her parents' names.
I have a copy of Alice's brother, Alec McClain's death record with lists the same parents.
Marriage record from FamilySearch.org
William E. Gold married Alice R. McClain


September 3, 1878 in Newton county, Missouri

Mrs. Elizabeth McClain married James P. Slocum (maybe the parents of the children in the 1880 census on Alice McClain's page)
Aug 28, 1864 in Newton Co, MO

Mrs. Eliza McLain married Hansin Harris
Sept. 19, 1869 in Newton Co, MO
(Maybe the person in the 1870 census on Alice McClain's page. A descendent of that Mary Catherine McClain sent me a probate that listed Eliza Harris as Thomas McClain's widow.)

Adline Young married Trey Ellis
Aug. 21, 1864 in Newton Co, MO

Alexander McClain married Susan Hatery
Oct 22, 1868 Newton Co, MO

Mary C. McLain married Clinton C. Culp
Dec. 18, 1879
(info confirmed from their great-granddaughter)

Jennie Slocum married Wesley Siler
Aug 12 1883 in Newton, MO
batch #M515512 Source call #0929789
People who don't have their own page
Adaline Young
from Familysearch.org Marriage record
Adline Young married Trey Ellis
Aug. 21, 1864 in Newton Co, MO
Batch No: M515511 Source Call No: 0929788
In 1850 census, Adaline is living with her father, Alexander Young in Benton Co., AR. In 1860 census, she is living with Thomas McClain.
In 1870 census, Adaline is listed with her husband Ira Ellis. In 1880 census, Adaline is living in the same household as Alice (McClain) Gold (see Alice's page.) In the 1880 census, Alice's sisters are listed as Adaline's nieces. Adaline Young was sister to Eliza Young. From a family story, Thomas McClain was engaged to one woman but married her sister. So maybe Adaline was the first woman.
Wanda Cemetery, Newton Co, MO
Ada H. Ellis
1822-1889
Amanda McClain, Thomas McClain's sister (also more about how Thomas McClain was murdered.)

Message on Genforum Board:

Posted By: Laurel G.
Subject: Re: McClain's in Missouri
Post Date: January 17, 2001 at 18:25:42
Message URL: http://genforum.genealogy.com/mcclain/messages/1555.html
Forum: Mcclain Family Genealogy Forum
Forum URL: http://genforum.genealogy.com/mcclain/


"Hi,
I just started and am new at this. I have a little information. I show John
McClain born 9/15/1765 in Virginia married Eleanora Nelson (dob 5/28/1771)
on 1/26/1794. I believe they had Amanda Eleanora McClain(6/21/1814),Black
McClain and Tom McClain. Amanda married Jonathan Dryden Duff(4/12/1800)in
Arkansas on 7/18/1837. They had Susan J., Marha E., James Black,Josephine A.
and John Samuel Duff(my ggf). Amanda moved with her children to Newtonia,
Missouri to live with her brother Tom around the end of the Civil War. He
was shot & killed by his best friend Bob Christian. My ggf, John Duff left
Missouri around 1869 and went to Florence Texas to live with Black McClain
who was the Post Master of Florence. Have you come across any of this?"

---------------------------------------------------------------------------------

I found a land grant at www.glorecords.blm.gov for Robert H Christian in McDonald Co, MO in 1856.

From FamilySearch.org
Amanda Duff married Stephen Ellis 1871 in Newton Co, MO

In the 1850 census, Amanda Duff is living in Benton County, AR near Thomas McClain (see his page.) She is living with her sister Isabella McClain Harston and I guess her mother Ellen.

In the 1860 and 1870 censuses, Amanda Duff in living in Newton Co, MO near Thomas McClain in 1860.

In 1880, Amanda is married to Stephen Ellis, William Gold's grandfather. William Gold marries Amanda's niece Alice McClain in 1878.
Isabella McClain, maybe Thomas's sister.
From FamilySearch.org
Pedigree resource file Individual record Compact Disc #29 Pin # 213795
Isabella McLane b 1800 prob. NC; d abt 1851 Pea Ridge, Benton Co, AR
mother Elen M. Lane abt 1776 prob NC
husband Robert A. Harston married Oct 6, 1832 in Bedford Co, TN
Amanda lives with her in 1850 census.
---
Home | Cunningham Family | Brickey Family | Weems Family | Gold Family | McClain Family